We worship on Sunday mornings at 8:45 am and 11:00 am

​There will be on Worship Service on Sunday, October 29th, at 10 am to celebrate Reformation Sunday

​​​We celebrate the Lord's Supper every Sunday at both services.

Our worship is rooted in the Reformed tradition, sharing the Lord's Supper each week and reflective of the larger ecumenical community.

During the summer months (from Memorial Day, May 29, 2016, through Labor Day, September 5th)
​we offer one worship service at 10:15 am.
---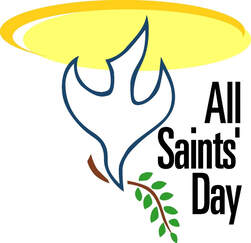 New Hope will celebrate All Saints Day on Sunday, November 6th. As a part of this celebration, during the Sacrament of Holy Communion, we will be remembering members and loved ones that have died in the Lord during the past twelve months (since November 2016). A list of those being remembered will be included in the November 5th bulletin. If you have a friend or loved one who has died in the last year and you would like him or her mentioned, please call Laurie Meinert at the church office (636) 936-2200, email her at lbrown@nhpres.org, or complete the insert in the information area and turn it in to the office.


---