Vacation Bible School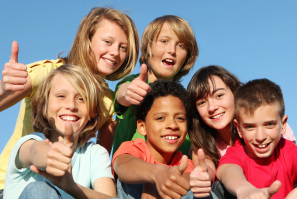 Since 2012, New Hope hosts two sessions of Vacation Bible School, a morning session and an evening session. Dinner for the families is included as part of the evening program. What a wonderful time!
In 2013, New Hope hosted 153 children from our church and community. We had over 100 church members volunteer in a variety of areas, from teaching to cooking to welcoming visitors. During our VBS celebration the following Sunday, the children shared what they learned and sang songs for the congregation. Everyone then participated in fun and fellowship during our celebration picnic, complete with a bounce house, face painting, and snow cones! It was such a hit that we did the same thing for 2014!
During VBS 2014, our curriculum was WORKSHOP OF WONDERS: Imagine and Build with God! The evening session ran from July 13 - 17, and the morning session took place from July 14 - 18. It was a great week!
All VBS teachers are
Safe Sanctuary Certified
.
Two sessions of VBS is an enormous undertaking for us at NHPC, and we alwaysl need all the help we can get! For more information about VBS, please contact Barbi Smith, our Director of Christian Education and Spiritual Formation, at (636) 936-2200 or
click here
.
---