Staff


---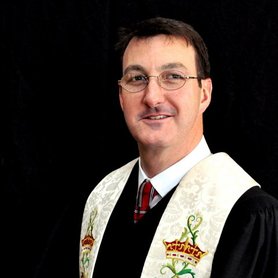 The Rev. Dr. Christopher Q. James, Pastor
Chris became the pastor of New Hope Presbyterian Church in January 2002. He received his Bachelor of Arts degree from Indiana University in Bloomington, IN; his Master of Divinity degree from Princeton Theological Seminary in Princeton, NJ; and the Doctor of Ministry degree from McCormick Theological Seminary in Chicago, IL.
Chris grew up in the Presbyterian Church. After college, he became the Director of Youth Ministries in his home congregation, the Webster Groves Presbyterian Church. During this time Chris discerned his call to the ministry of word and sacrament. Upon graduating from Princeton Seminary, Chris served for three-and-a-half years as the Associate Pastor for Youth & Young Adults at the Germantown Presbyterian Church in Germantown, TN (a suburb of Memphis).
Since Chris came to New Hope, the congregation has added a second Sunday worship service and conducted a successful capital campaign resulting in a significant reduction of the debt on the current church facility. Chris has served the Presbytery of Giddings-Lovejoy on several committees, as well as a teacher of Reformed Worship & Sacraments for the Presbytery's Commissioned Ruling Elder program.
Chris' doctoral thesis is entitled "Gathering at the Bath: Toward a Recovery of Baptismal Identity Through the Liturgical Practices of the Church," and explores how the regular worship life of the congregation gives form and shape to its baptismal self-understanding. Chris is an active member of the North American Academy of Liturgy. He and his wife, Jennifer, enjoy spending time with their children, following the St. Louis Cardinals, reading, and working on those never-ending home improvement projects.
Chris finds New Hope an exciting place to be because he gets to work with a congregation that simply loves being the church together.
Email Chris
---
---
Laurie Meinert, Office Manager
Laurie has been with New Hope since 2009, and worked in a church office environment for many years before becoming our office manager. She is ordained both as an Elder and as a Deacon in the PC(USA) Church. Laurie lives in O'Fallon, Missouri with her hudband, Chris, and daughter, Nicole. She has two step-sons, Al and Chris, as well as a dog and cat. In her spare time, she enjoys watching football, reading and camping.
Laurie enjoys meeting new visitors and potential members! If you have any questions, please stop by the church office and Laurie will be happy to answer them for you!
Email Laurie
---
---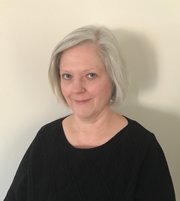 Gay Spears, Director of Music Ministries

​
Gay earned a Bachelor of Music in Music Education, with emphases in Piano and Choral Music from the University of Tennessee at Martin; a Master of Music with a major in Piano Performance at Arkansas State University; and a Doctor of Musical Arts in Music Composition from Memphis State University. Her dissertation was an original composition of 20 minutes length, written for 12 winds, percussion, and piano, entitled "Tapestries." The piece was based upon the Unicorn Tapestries found in the Cloisters Museum in New York.
Gay began her experiences in leading worship as church pianist at the age 15 in a small town in Arkansas. She continued for several years as a substitute pianist and organist, at churches in Jonesboro, Arkansas. In 1988 she began serving as the organist at the First United Methodist Church of Paragould, Arkansas. Shortly after moving to Chesterfield in 2000 she began as organist at Bonhomme Presbyterian Church. She began serving as choirmaster and organist at the Church of the Good Shepherd (Episcopal) in Town and Country in 2008, and in 2010 she began a similar position at the Faith Des Peres Presbyterian Church in Frontenac.
Besides her church music work, Gay is an experienced college instructor, having taught at a college in Arkansas for many years as well as at Webster University. She currently is an instructor at St. Louis University.
Gay enjoys writing music. She is an active composer with approximately 18 published and numerous unpublished original compositions. Her work has been performed throughout the United States, Europe, and Japan. Gay and her husband Jared live in O'Fallon. They have one daughter, Katy, who is a student at Southeast Missouri State University. Completing the family is Abby, a rescued golden retriever.
​
Email Gay
---
---