Safe Sanctuary
---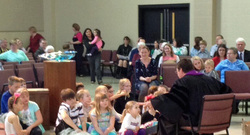 We are responsible for the safety of children

The Session of New Hope Presbyterian Church believes we are called by God to create a safe haven for all children and youth in our care. We are to protect those who are powerless and empower them with faith and trust. When we baptize someone, child or adult, into the covenant community of faith we pledge as a congregation to uphold that person in Jesus Christ - to teach, strengthen, and support that individual's relationships within the household of God.

The Session of New Hope Presbyterian Church is committed to the safety, welfare, and protection of all children participating in the activities and programs of this church.
---
---
Therefore, all NHPC-sponsored activities and programs for children and/or youth will be subject to the following policies:

* State background checks must be performed on all adults working with children and/or youth.

* All group leaders/primary caregivers in the room with children and/or youth shall be Safe Sanctuary Certified.

* In NHPC ministries with children and/or youth, there will be at least two (2) unrelated adults (18 years of age and older) in the room at all times. If, due to unforeseen circumstances that it is not possible, a "rover" will be appointed to monitor those activities.

* Adults who supervise children and youth should be at least four (4) years older than the oldest in the group with which they are working. No one under the age of 18 shall be given primary responsibility for the care and supervision of children and/or youth.

* No one shall have unsupervised access to children or youth.

* Bathroom trips: If young children need assistance, one adult will escort the child to the bathroom while the remaining adult will stay with the children in the room with the classroom door open unless the door contains a window.

* All rooms where children and/or youth meet shall have windows to the hallway, windows in the doors, or Dutch doors.

* We require a 6-month waiting period for new members and regular visitors before they may work with children and/or youth. This allows time to complete the mandatory Safe Sanctuary Training and certification.

* Affected NHPC ministries include: Infant and Pre-School Nursery, Sunday School, Kids' Fellowship Club, Worship Feast, Youth Programs, Children's and/or Youth Choirs, all Mission Activities, as well as any other group within the church that may be involved in the care of children and/or youth.

* Those persons responsible for the administration of the above programs shall be responsible for implementing and monitoring the compliance of Safe Sanctuary policies and procedures.

* Each clergy, staff, or ministry leader within NHPC shall be an advocate for the safety of our youth, and will promote strategies to help all who volunteer or work with children and/or youth.

* All incidents of suspected child abuse shall be reported in accordance with the State Laws of Missouri.

*All volunteers and paid staff will attend a Safe Sanctuary Training Session every three (3) years.

To learn more about the Safe Sanctuary program at New Hope, or to become Safe Sanctuary certified or re-certified, please contact the main office at (636) 936-2200.


---