EVENING OF CAROLS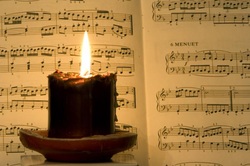 Turn your heart to Christmas by attending An Evening of Carols, an Advent celebration for the entire family, on Wednesday, December 16 at 7:00 p.m. Join your New Hope family and friends to celebrate the quiet spirit of the true meaning of Christmas.

· Instrumental music

· Canticles in Candlelight by Joseph Martin

· Christmas cantata presented by the New Hope choir

· The Advent story

· Candlelit singing of familiar carols

· Dessert

· Child care provided upon request

· Bring your family and friends

A sign-up sheet for reservations, child care and donations of desserts is located on the information table.


Please RSVP by Wednesday, December 9.











---