DEACONS
---
---
The Deacons will be sponsoring a blood drive at church on Monday, September 25th. The Blood Drive will take place between 3:30 pm and 6:30 pm in the Blood Mobile, which will be located on the lower parking lot. Sign-ups sheets will be available on the Information Table. Walk-ins will also be welcome that day! For more information, please contact the church office.

Benefits of Donating Blood:
· It feels great to donate!
· You get free juice and delicious Keebler® cookies.
· It's something you can spare – most people have blood to spare... yet, there is still not enough to go around.
· You will help ensure blood is on the shelf when needed – most people don't think they'll ever need blood, but many do.
· You will be someone's hero – in fact, you could help save more than one life with just one donation.


---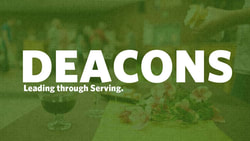 Please be sure to let a Deacon or the church office know if you have or you know of a care concern within our congregation. We can be identified by our gold Deacon pins. You can also find us available at the welcome table before and after each service.




---
---