DEACONS
---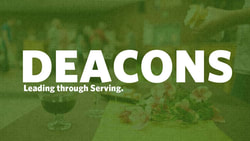 Please be sure to let a Deacon or the church office know if you have or you know of a care concern within our congregation. We can be identified by our gold Deacon pins. You can also find us available at the welcome table before and after each service.




---
---
​Did God bless you with a special talent to make things? Maybe you are a wood-worker or artisan. Maybe you paint or sculpt. Maybe you sew or bake. Whatever it is, we invite you to share your gifts with New Hope on Sunday, November 19th, immediately following the 11:00 am worship service.
We invite the congregation to share their talents with us! Please start to work on any projects you would like to contribute, such as special food goods, craft works, needle arts, or anything else you can share. All proceeds go towards the Deacon Benevolence Fund, which is used to help members and the larger community in need.